Modifications

At the Shipping Container Store we can handle all of your custom modifications needs. Please

call us for a quote on the modifications you would like made to your shipping container.

Available modifications include:

If you decide you would like to get your shipping container modified we require pre-payment in

full and will work with you to set an achievable delivery schedule.

All modifications are EPA and DOE compliant and certified.

We can also provide you with instructions to do the following:

Painting a 40' container

Painting a 20' container

Installing roll up doors on 20' container

Installing exhaust fans on 40' or 20' containers

Installing a man door on a container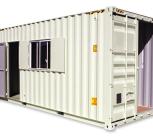 HOME




CONTAINER SIZES




MODIFICATIONS




DELIVERY




LOCATIONS